本文已参与「掘力星计划」,赢取创作大礼包,挑战创作激励金。
描述
There is a special typewriter with lowercase English letters 'a' to 'z' arranged in a circle with a pointer. A character can only be typed if the pointer is pointing to that character. The pointer is initially pointing to the character 'a'.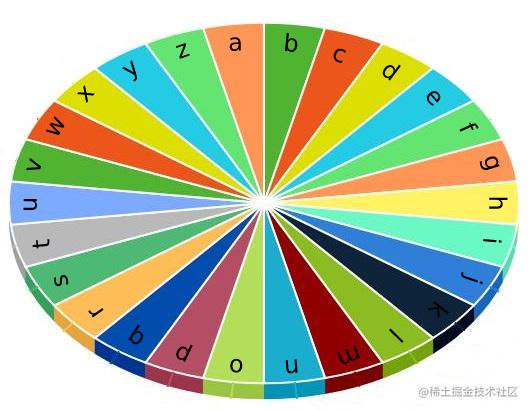 Each second, you may perform one of the following operations:
Move the pointer one character counterclockwise or clockwise.
Type the character the pointer is currently on.
Given a string word, return the minimum number of seconds to type out the characters in word.
Example 1:
Input: word = "abc"
Output: 5
Explanation: 
The characters are printed as follows:
- Type the character 'a' in 1 second since the pointer is initially on 'a'.
- Move the pointer clockwise to 'b' in 1 second.
- Type the character 'b' in 1 second.
- Move the pointer clockwise to 'c' in 1 second.
- Type the character 'c' in 1 second.


复制代码
Example 2:
Input: word = "bza"
Output: 7
Explanation:
The characters are printed as follows:
- Move the pointer clockwise to 'b' in 1 second.
- Type the character 'b' in 1 second.
- Move the pointer counterclockwise to 'z' in 2 seconds.
- Type the character 'z' in 1 second.
- Move the pointer clockwise to 'a' in 1 second.
- Type the character 'a' in 1 second.


复制代码
Example 3:
Input: word = "zjpc"
Output: 34
Explanation:
The characters are printed as follows:
- Move the pointer counterclockwise to 'z' in 1 second.
- Type the character 'z' in 1 second.
- Move the pointer clockwise to 'j' in 10 seconds.
- Type the character 'j' in 1 second.
- Move the pointer clockwise to 'p' in 6 seconds.
- Type the character 'p' in 1 second.
- Move the pointer counterclockwise to 'c' in 13 seconds.
- Type the character 'c' in 1 second.


复制代码
Note:
1 <= word.length <= 100
word consists of lowercase English letters.


复制代码
解析
根据题意, 给出了一个用 26 个小写英文字母按顺序组成的一个圆盘,当指针指向某个字母的时候,需要打印这个字母,最开始指针指向的是字母 a 。
圆盘可以顺时针或者逆时针转动,我们可以每次进行两种操作:
顺时针或者逆时针转动圆盘,让指针指向 word 中的某个字符,经过一个字符就消耗一秒,移动几次就是需要几秒
打印这个字符,只需要 1 秒
题目中给出了一个单词 word ,让我们计算打印这个 word 需要的最少的时间秒数。
其实这个题很简单,就是遍历 word 中的每个字符,然后找出从上一个字符到下一个字符的指针最少移动次数,可以顺时针找也可以逆时针找,然后将所有的指针移动时间和字母的打印时间都加起来就可以了。关键在于顺时针和逆时针的时间计算。
解答
class Solution(object):
    def minTimeToType(self, word):
        """
        :type word: str
        :rtype: int
        """
        result = 0
        for i, letter in enumerate(word):
            if i == 0:
                result += 1 + min(ord(letter)-ord('a'), 122-ord(letter)+1)
            else:
                # 122 是 z 的 ascii 码 ,97 是 a 的 ascii 码
                if ord(letter) > ord(word[i-1]):
                    result += 1 + min(ord(letter)-ord(word[i-1]), 122-ord(letter)+1+ord(word[i-1])-97)
                elif ord(letter) < ord(word[i-1]):
                    result += 1 + min(ord(word[i-1])-ord(letter), 122-ord(word[i-1])+1+ord(letter)-97)
                else:
                    result += 1
        return result       	      
		


复制代码
运行结果
Runtime: 41 ms, faster than 8.36% of Python online submissions for Minimum Time to Type Word Using Special Typewriter.
Memory Usage: 13.4 MB, less than 53.99% of Python online submissions for Minimum Time to Type Word Using Special Typewriter.


复制代码
解析
其实更简单的方法,使用贪心算法求解即可。
解答
class Solution(object):
    def minTimeToType(self, word):
        """
        :type word: str
        :rtype: int
        """
        s = "abcdefghojklmnopqrstuvwxyz"
        result = 0
        cur = "a"
        for letter in word:
            if cur == letter:
                result += 1
                continue
            result += min(abs(ord(letter)-ord(cur)),26-abs(ord(letter)-ord(cur))) + 1
            cur = letter
        return result


复制代码
运行结果
Runtime: 20 ms, faster than 73.38% of Python online submissions for Minimum Time to Type Word Using Special Typewriter.
Memory Usage: 13.5 MB, less than 53.99% of Python online submissions for Minimum Time to Type Word Using Special Typewriter.


复制代码
原题链接:leetcode.com/problems/mi…
您的支持是我最大的动力